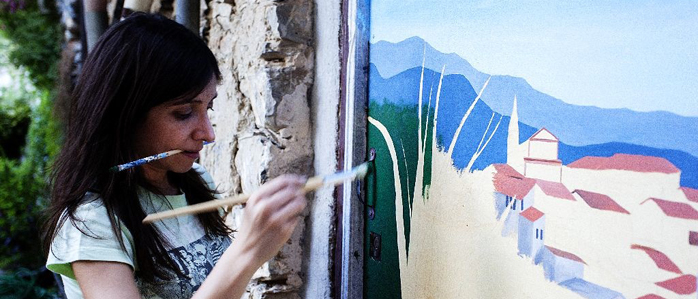 I was born in Morelia, Michoacan, Mexico. Like many artists, my interest in art started at a very early age and it was more than just "liking to draw" (every child can say that). I could give you examples of what art meant in my childhood, but I would probably bore you to death so let's skip all the way to 1997 when I graduated as a graphic designer from Vasco de Quiroga University (in Morelia). A few months before that time I joined a well established group of artists named "Grupo de Expresiones Plásticas A.C." I was a member of this group for over a year and I was able to participate in their group exhibits, one of them at the prestigious "Casa de la Cultura de Morelia." In 1998 I was awarded a Fulbright Scholarship to study illustration in the USA. I finished my master's degree in illustration at the Savannah College of Art and Design in 2000.
I have worked as a graphic designer and illustrator for newspapers, printing companies, advertising agencies, etc. My work has been published in the following: Great Life Magazine, The Georgia Guardian (newspaper), Nuevo Michoacan (newspaper), Revista a! (graphic design magazine). I have also produced illustrations for clients such as Pearson Education Mexico and Grupo Olimpia Editores. My first children's book, "Paty y los Payasos," was published in 2002 by Libros de el Nacional, in Venezuela.
I moved to Texas several years ago and I am currently dedicating most of my creative time to produce my personal work. I have been very fortunate to show my work at several galleries in the Houston area and near cities. These are some of them:

Emma S. Barrientos Mexican American Cultural Center, Austin, TX
Total Plaza Gallery, Houston, TX
The Arts Alliance Center at Clear Lake, Nassau Bay, TX
Betz Art Gallery, Houston, TX
Archway Gallery, Houston, TX
Museum of Printing History, Houston, TX
Winter Street Studios, Houston, TX
MSC Forsyth Center Galleries, Texas A&M University, Bryan, TX
Center for Contemporary Art, Baton Rouge, LA
Fort Worth Community Arts Center, Fort Worth, TX
Northline Gallery, Houston Community College
Mighty Fine Arts, Dallas, TX
Several of my paintings are owned by private collectors as well as institutions such as the Pearland Founding Collection of the University of Houston-Clear Lake (piece "Why") and the Savannah College of Art and Design (piece "Flower Pot").
To learn more about my art you can like my facebook page

If you want to be added to my email list to learn about future events send me an email: arte@marlenellanes.com
The following persons have added me to their links, thanks!
http://www.JolieBonnette.com/
http://errataseminentes.blogspot.com/